Whispering Woodworks

Turned Leg Rectangular Tea Table

This table was built for the newly reconstructed distillery at George Washington's Mount Vernon. Based on historical evidence, a similar table was located in the distillery manager's bedchamber. The table was designed in the style of several existing examples of turned leg tea tables of Southern origin. The overall dimensions of the table is approximately 21.5" wide x 27" deep x 28" high. The construction includes hand turned legs and stretchers, pinned mortise and tenon joinery, a decorative bead around the apron and a lightly distressed oil and wax finish. The size, style, wood selection, and coloring can be customized to suit the customer's requirements.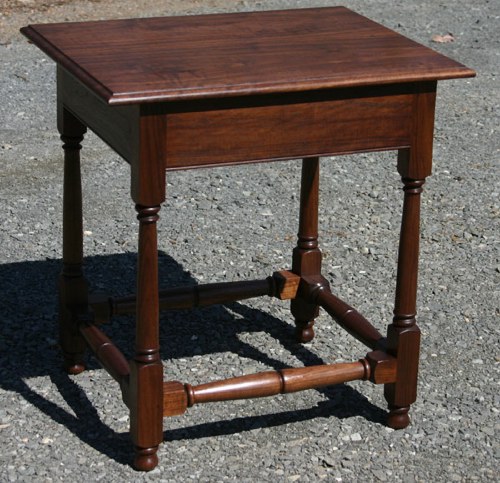 Detail view showing the table top.
Detail views of the legs and stretchers.

The photo below shows the table in the Distillery Manager's bedchamber at George Washington's Mount Vernon