Whispering Woodworks

Walnut Stand Up Desk with Drawers

This desk is a stand up desk for writing or reading in a standing position - it can provide significant back relief and provides a welcome change from sitting at a desk all day. The desk shown was constructed from solid black walnut with highly figured wood selected for the desk lid and drawer fronts. The desk features traditional mortise and tenon and handcut exposed dovetail joinery. The height of the center of the slanted writing surface is 50" from the floor and the writing surface has a cleat at the bottom to support a large book (approximately 1" high x 20" long). This height can be adjusted to suit the individual customer's height and preferences. The desk features tapered legs and 3 main drawers on the top with a smaller map drawer below. There is a book shelf across the front of the desk with a cut-out area for knee clearance and a lip along the back edge. The legs are connected with a "H-stretcher" / footrest at the bottom. The interior of the desk is divided into a series of drawers and cubbies. The lid is provided with a support to hold it in an open position for access to the interior. The three exterior drawers and one of the interior drawers feature reproduction locks with inlayed brass keyholes. The interior also features a secret compartment.
Finally, the piece was finished in the with wiping varnish - then waxed and buffed to a satin finish.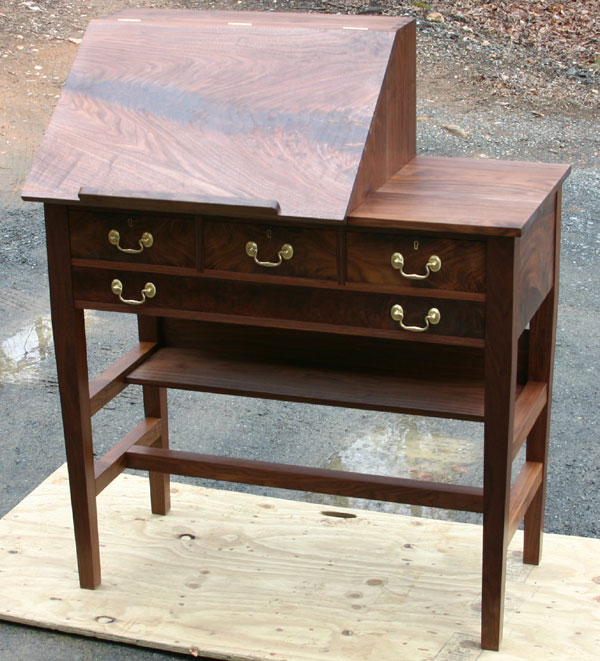 Features:

Primary construction is solid black walnut with poplar and maple secondary woods.

The dimensions are approximately 58" high x 48" wide x 24" deep

Wide boards and careful grain matching for full grain patterns.

Crotch walnut for the sloped desk lid with highly figured walnut for the drawer fronts and aprons.

Mortise and tenon and handcut dovetail joinery throughout the piece.

Drawers features handcut dovetails at all four corners - with solid wood drawer bottoms

Reproduction quality brass hardware

This desk was finished with a hand rubbed varnish - then buffed and waxed to a satiny sheen.

Other woods, styles and finishes are available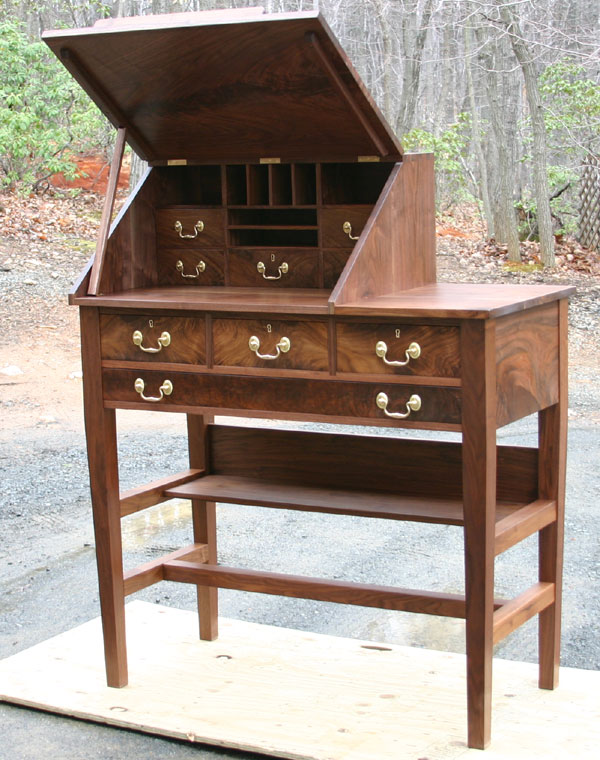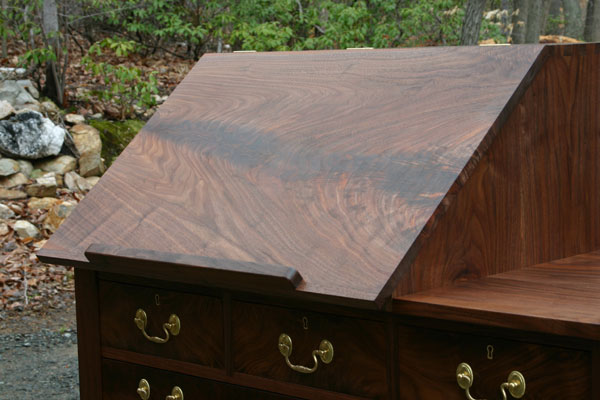 Detail view showing Crotch Walnut Top and figured drawer fronts