Whispering Woodworks

Sheraton Field Bed - Acorn Post

This queen size Sheraton Field Bed is a reproduction of a well known field bed on display in the Brooklyn Museum. The original bed was built in New England in the early 1800's. This style post - which is approximately 64" tall - is referred to as a mid-post bed (rather than a low post or high post). The very delicate and detailed turnings on the post allow it to be used either with or without an arched tester frame. The bed is constructed from solid cherry in a very traditional manner with mortise and tenon joinery held together with bed bolts, and bed irons to support the box spring. The board for the headboard was carefully selected to provide a very beautiful and striking grain pattern. This bed is also shown with an optional hard maple mattress support (consisting of 20 hard maple slats on a frame) - which allows the bed to be used without a box spring. Other headboard designs are available with and without carvings.
The use of another wood, such as maple, walnut, tiger maple or mahogany would make a very beautiful piece as well. The bed size, style, wood selection, and coloring can be customized to suit the customer's requirements.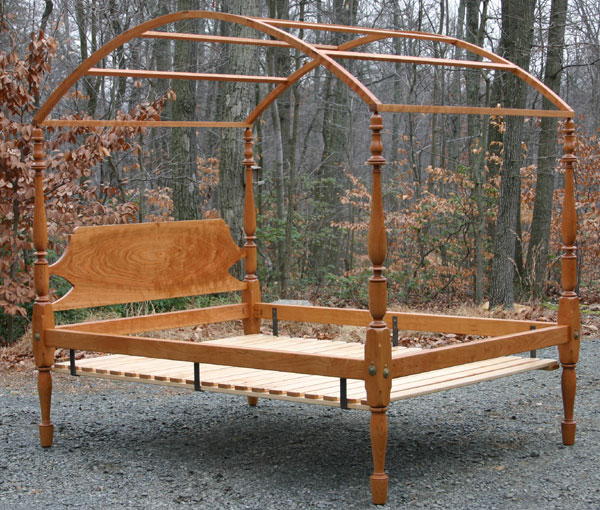 Features:

Solid cherry construction.

Arched or Bowed canopy framework (tester).

Hard Maple mattress support system (slats and frame)

Hand turned posts - other designs available.

Beautiful single board headboard - available in many styles

The height of the bed, mattress size and headboard designs can all be specified by the customer.

Rails joined to the posts with traditional bed bolts - bolt covers are available in a wide variety of styles and finishes.

Bed bolt wrench included to allow periodic tightening of the joints as the humidity changes.

All joinery is mortise and tenon.

This bed was finished with a natural color using a hand rubbed varnish - then buffed and waxed to a satiny sheen

Other woods, styles and finishes are available.
This bed is also available without the or mattress support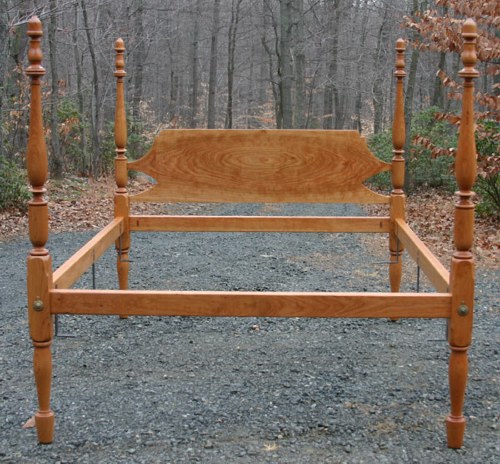 Detail view of Headboard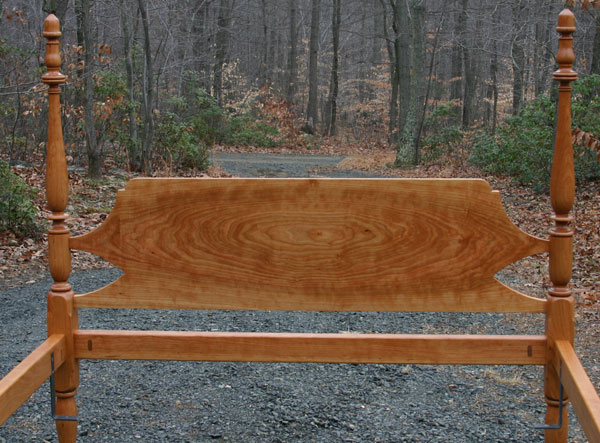 Detail views of the turned posts, bed bolt covers, and feet.

Optional mattress support - maple slats