Whispering Woodworks

Shaker Harvest Table

This Shaker style dining table was built for a customer in Massachusetts who was looking for a smaller custom table for her apartment. This piece was a reproduction of a harvest table that she had seen pictured in a magazine. The table top and leafs were constructed from a matched set of hard maple. The size of the table was approximately 27" wide x 56" long in the closed position and it opened to 41" wide with the leafs extended. The leafs are attached with the traditional rule joint and solid brass reproduction hinges. Each leaf is supported by a pair of wooden supports which are integral to the side table aprons. The base of the table was built from solid hard maple in the shaker style with tapered legs and pinned mortise and tenon joinery. The table was stained and finished to match a set of antique chairs owned by the customer. The table size, style, wood selection, and coloring can be customized to suit the customer's requirements.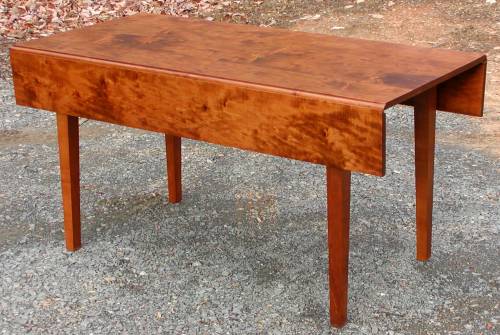 Features:

Dimensions: 30" high x 56" long x 27" wide (closed) or 41" wide (open)

Tapered legs in the traditional shaker style - other styles including turned are available.

Legs jointed to apron with pinned mortise and tenon joints.

Table skirts have a decorative bead around the lower edge.

This table was stained and finished with a hand rubbed varnish, then the entire table is buffed and waxed to a satiny sheen.