Whispering Woodworks

Shaker Cherry Dining Table

This Shaker style dining table was built for a couple in Pennsylvania who had been looking for a high quality custom dining table for several years. The table top was constructed from a three board matched set of highly figured curly cherry with breadboard ends and a shaker edge profile. This table also features two removable 16" company boards on each end to extend seating area. The base of the table was built from solid cherry in the shaker style with tapered legs and pinned mortise and tenon joinery. The table size, style, wood selection, and coloring can be customized to suit the customer's requirements.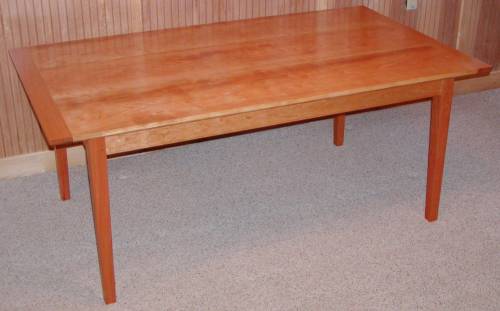 Features:

Matched set three board top of Curly Cherry (72" x 42" size)

Tapered legs in the traditional shaker style - other styles including turned are available.

Legs jointed to apron with pinned mortise and tenon joints.

Table skirts have a decorative bead around the lower edge.

The top features a bread board end construction - assuring that it stays flat through years of humidity changes - see additional photos and details below.

This table features company boards - a great alternative to conventional extension tables. The company boards allow the seating area of the table to be greatly increased without sacrificing the strength of the table - see additional photos and details below. This table extends to 104" x 42".

This table was finished with a hand rubbed oil and varnish process to allow it to age naturally over the coming years, then the entire table is buffed and waxed to a satiny sheen

Table edge profile and shape of top can be selected from many styles.

Table can be stained or left in a natural color.
The picture below shows the table in the extended position with the company boards attached.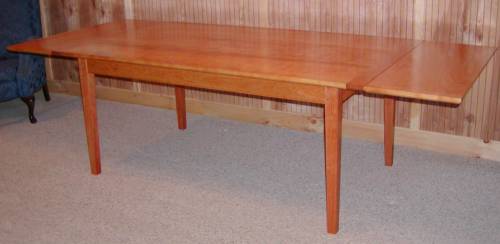 Detail views of the pinned tapered leg, breadboard end, and the highly figured three board top.