Whispering Woodworks

Cherry Pencil Post Bed

This king size pencil post bed features many of the classical design elements of a traditional period bed. From the tapered octagonal posts which are shaped by hand with a drawknife and spokeshave, to the hand turned finials at the top, this bed features a great deal of hand craftsmanship. The bed is constructed from solid cherry in a very traditional manner with mortise and tenon joinery, bed bolts to connect the rails to the head board and footboard, and bed irons to support box spring. Other headboard designs are available with and without carvings. This bed is shown with a flat tester frame to support a bed canopy - the bed is available without this frame as well. In addition a platform box spring support system (not shown) is available as an option for queen sized beds and required for king size beds to support the box springs.
The use of another wood, such as walnut, tiger maple or mahogany would make a very beautiful piece as well. The bed size, style, wood selection, and coloring can be customized to suit the customer's requirements.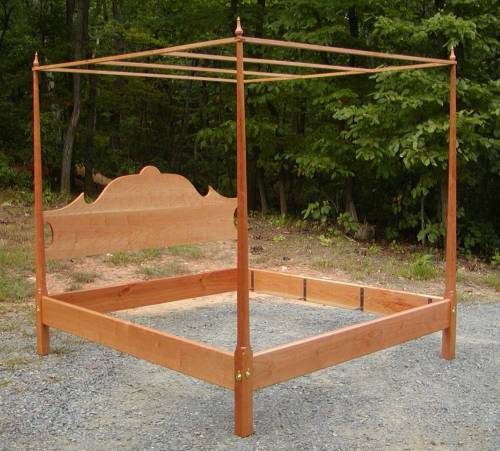 Features:

Solid cherry construction.

Hand shaped tapered octagonal posts.

Hand turned finials complete the top of each post.

Scrolled headboard - available in many styles

Available with and without the tester frame for a canopy cover. I can provide information on where to order some excellent handmade canopies in a variety of styles.

The height of the bed, mattress size and headboard designs can all be specified by the customer.

Rails joined to the posts with traditional bed bolts - bolt covers are available in a wide variety of styles and finishes.

Bed bolt wrench included to allow periodic tightening of the joints as the humidity changes.

All joinery is mortise and tenon.

This bed was finished with a hand rubbed varnish - then buffed and waxed to a satiny sheen

Other woods, styles and finishes are available - including turned post, shaker or raised panel.
Detail views of the tapered octagonal leg, bed bolt covers, finials

Beds are also available with carved headboards including shells, initials and designs.
The bed below has a carved shell in the center and the top edge of the headboard has been rounded by hand to create depth to the design. The shell was selected by the customer to match
a shell on another piece of her bedroom furniture.