Whispering Woodworks

Round Pedestal Table in Antique Chestnut

This early-colonial style dining table was built for a customer in who was looking for a small custom table for casual use. The table is constructed from reclaimed Chestnut boards which were resawn from barn beams. Since the American Chestnut tree population was destroyed by a blight in the 1900's, the only source of this wood is through reclaimed barn timbers. The wood used in the construction of this piece was from a barn built in the 1880's in Western Pennsylvania. The size of the table was approximately 42" diameter x 30" high - providing seating for 4-5 people. The base of the table was hand turned from a chestnut beam and the legs were attached with traditional mortise and tenon joinery. The table size, style, wood selection, and coloring can be customized to suit the customer's requirements.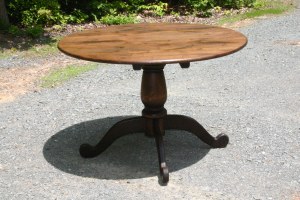 Features:

Matched set of reclaimed antique Chestnut boards

Hand shaped legs

Legs jointed to pedestal base with mortise and tenon joints.

Hand turned pedestal

The top features beautiful matched chestnut boards with natural distressing and wear.

The table was stained and finished with a hand rubbed varnish, then buffed and waxed to a satiny sheen