Whispering Woodworks

Newport Tall Clock

This Tall Case Clock (or Grandfather clock) was built as a reproduction of a clock built by John Goddard in Newport, Rhode Island in 1760. This clock is featured several times in Sack's American Antiques series and is listed as piece #3577. Sack describes this particular clock as: "Chippendale Mahogany tall clock with block and shell carved center door, flanked by fluted quarter columns, paneled base with chamfered and lamb's tongue corners, ogee bracket feet, broken arch top with rare spiral carved capitals in punchwork background, original stop fluted flame finials, enameled dial, superb golden brown patina. Goddard-Townsend, Newport, Rhode Island, circa 1760 - 1780." (Sack p. 892)
Standing just under 8 feet high (94.5") this clock creates a dramatic presence in any setting. The clock works can be obtained from several sources - this clock features a reproduction works by David Lindow with a hand painted dial by Kathi Edwards. (Prices for works range from $500 to over $2500.) I will work with the customers to select the appropriate works and make arrangements for the dial painting and designs. The clock works shown include a moon phase dial, a date wheel and a second hand.
In keeping with the original Newport preference for fine grained Mahogany, I chose Mahogany for this reproduction. The overall size of the clock is 94.5" high, 21.5" wide x 12" deep. The size, style, wood selection, and coloring can be customized to suit the customer's requirements.
The photo below show the original tall clock on the left and my reproduction on the right.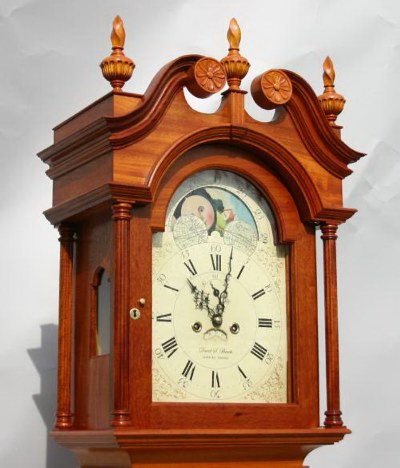 Features:

Primary construction is solid Mahogany with poplar for the back panel.

The dimensions are approximately 94.5" high x 21.5" wide x 12" deep

Hood features scrolled gooseneck molding with hand carved flower rosettes.

Fluted columns with hand turned capitals.

Three hand carved flame finials.

Quarter columns on the waist section.

Waist door features a block front design with a hand carved Newport shell.

Mortise and tenon and handcut dovetail joinery throughout the piece.

Hand blown reproduction glass for dial door and side hood windows.

All hardware is reproduction quality solid brass.

This clock was finished with a hand rubbed shellac finish - then buffed and waxed to a satiny sheen.

Other woods, styles and finishes are available
Photo showing detail at the top of hood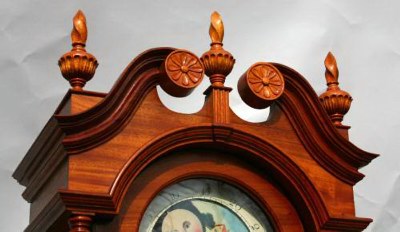 Detail view of the Newport shell on the waist door.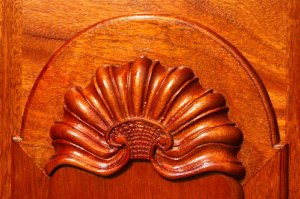 Detail photo showing hand painted dial face with moon wheel.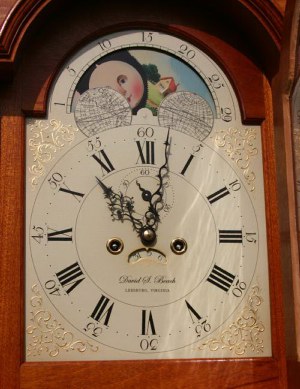 This Newport Clock reproduction was selected for the "Current Classics" Exhibition at the Telfair Museum of Art - April thru May 2006

Two different reproductions of this same clock that I have made for different customers.