Whispering Woodworks

Southern Mahogany Dining Table

This dining table was based on several early southern tables and was built from solid Mahogany. The table top was constructed from a beautiful single mahogany board over 36" in width. The top was hand planed and scraped to final size and detailed with a slight radius on the edge and a slight round-over at the corners. The size of the table was approximately 36" wide x 57" long x 30" high providing ample seating for 4-6 people. This size would also be useful as a kitchen work table or a desk. The base of the table was built from solid mahogany with tapered legs, pinned mortise and tenon joinery and a beaded apron. The table size, style, wood selection, and coloring can be customized to suit the customer's requirements.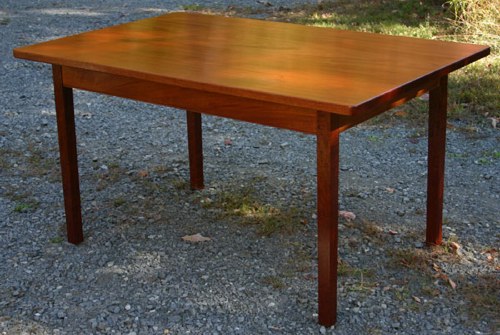 Features:

Single board Mahogany top (36" x 57")

Tapered legs - other styles including turned are available.

Legs jointed to apron with pinned mortise and tenon joints.

Table skirts have a decorative bead around the lower edge.

This table was finished with a hand rubbed oil and varnish process to allow it to age naturally over the coming years, then the entire table is buffed and waxed to a satiny sheen

Table edge profile and shape of top can be selected from many styles.

Table can be stained or left in a natural color.
Detail of Single Board Top