Whispering Woodworks

Chippendale Low Bookcase

This low bookcase or display case was designed and built in the Chippendale style. This book case features four adjustable shelves (two per side) behind the glass doors. The glass doors lock with reproduction locks, and brass reproduction hardware is used throughout. The overall size of the cabinet can be customized to your space requirements and storage needs. This cabinet works equally well as a dining room piece for china storage and display. Additionally, the cabinet could easily be redesigned to accommodate entertainment equipment.
This cabinet could easily be built from Maple, Walnut, Mahogany or Cherry.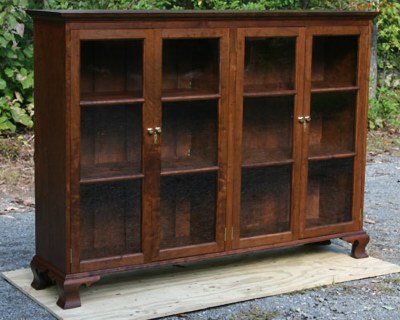 The dimensions of the book case are approximately 51" high x 70" wide x 15.5" deep - these dimensions can be customized to meet specific requirements.

The case construction is hand cut dovetail joints with sliding dovetails to attach the fixed central divider.

The glass doors feature pinned mortise and tenon construction with eight individual panes of handblown reproduction glass.

Reproduction quality brass hardware and hinges, lockable doors.

The back is constructed from shiplapped cherry boards.

Ogee bracket foot base.

Optional lighting can be added to the interior of the case for display purposes.

The piece was stained to simulate an antique cherry coloring and finished with a hand rubbed varnish, buffed and waxed to a warm satiny finish.