Whispering Woodworks

Hepplewhite Writing Desk

This three drawer Hepplewhite style writing desk is designed to provide a convenient, comfortable desk for writing or working on the computer. The desk height can be modified to accommodate different intended uses (28" is preferable for typing or laptop use, while 29-31" is more comfortable for writing.) The desk shown has dimensions of 48" long x 30" deep x 30.5" high. The frame of the desk is made from solid cherry and features tapered legs and pinned mortise and tenon joinery. The top of the desk is a two board matched curly cherry top. The drawer fronts are constructed from highly figured tiger maple which is outlined with a band of mahogany inlay and a mahogany cockbead around the edges. The size and wood selection can be customized to suit your requirements.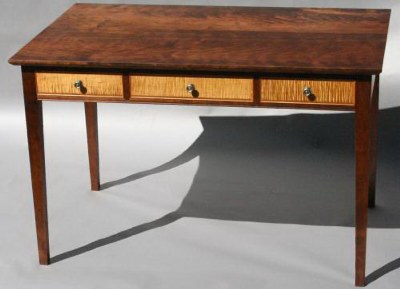 Desk shown with dimensions: 30.5" height x 48" width x 30" deep

Tapered legs with pinned mortise and tenon joints

Table skirts have a decorative bead around the lower edge.

Three drawers (approximately 3" deep).

Drawer interiors are constructed from maple with a solid poplar bottom.

Drawer features hand cut dovetails at all four corners.

Reproduction quality solid brass knobs.

Stained to simulate an antique cherry color and finished with a hand rubbed varnish.

Hand rubbed and waxed to a satiny sheen.
Detail view of the tiger maple drawer fronts with mahogany banding and cockbeading.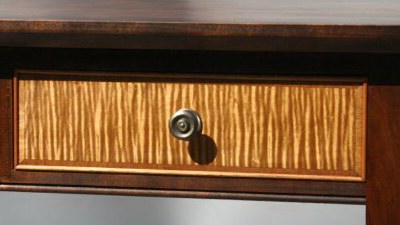 Detail view of the hand cut dovetail joints.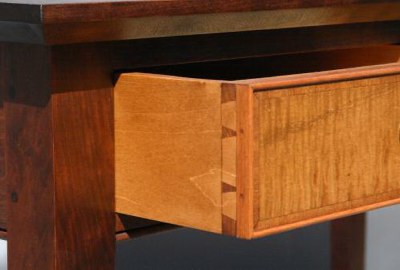 This is another similar desk that I built with slightly smaller dimensions and a walnut banding.

Detail view of drawer front with tiger maple cockbeading and walnut banding.