Whispering Woodworks

Fine Custom Furniture & Reproductions

Company History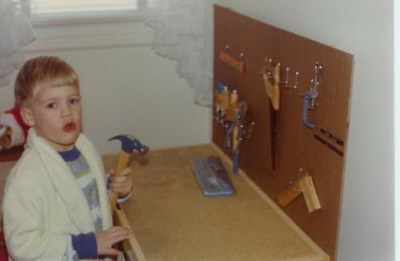 As you can see from the picture above, I've had a strong interest in woodworking and tools since I was very young. This is Christmas morning when I was 6 years old and I got my first workbench and set of tools. I can remember many lists to Santa when I was younger in which I just wanted more tools.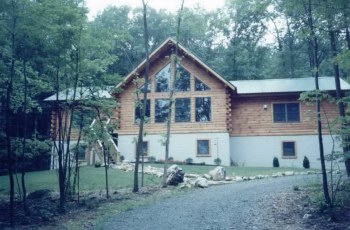 After completing a master's degree in Mechanical Engineering at Bucknell, getting married, and working for an engineering contractor for seven years, I decided it was time to pursue the hobby that I love and go into business for myself. It wasn't until we built our house that I was able to set up a workshop and start building furniture.
I started Whispering Woodworks LLC to provide a source for high quality reproduction and custom furniture made with traditional techniques and joinery. The art of fine woodworking and furniture making is rapidly becoming lost in today's manufactured world. I take great pride in having complete control of each piece of furniture from wood selection and joinery to sanding and finishing.
During the past several years, I have been continuing to develop and hone my woodworking skills with a variety of classes and courses offered by professional woodworkers. These classes are a great example of my commitment to advance my skills and offer my customers the very best reproduction furniture. Some of my most recent classes include:
Fine Joinery Workshop (Traditional Hand Joinery) - Jim Rubino
Basic Cabinetmaking (1 year of class) - Hugh Grubb
Advanced Cabinetmaking (2 years of class) - Hugh Grubb
Wood Finishing - Lou Schnelling
Queen Anne Chair Class - Ben Hobbs
Chippendale Arm Chair Class - Ben Hobbs
18th Century Clockmaking - Colonial Williamsburg
Southern Furniture - Society of American Period Furnituremakers
Newport Style Carving Class - Allan Breed
John Townsend Lecture - NY Metropolitan Museum of Art
Regional Variations in Period Furniture - Society of American Period Furnituremakers
18th Century Chair Making - Colonial Williamsburg
Surface Treatment and Finishing - Society of American Period Furnituremakers
Turret Top Tea Table Class - Gene Landon
Juried member of the Association of Virginia Artisans
Member of the Society of American Period Furniture Makers