Whispering Woodworks

Anatolian Hall Chest

This custom hall chest was the result of very close collaboration with the customer over the period of several months. The customer wished to have a narrow hall chest that would be used for storage and seating. The primary theme of this hall chest is derived from a study of traditional carpets and fabrics from the Anatolian region. The carved stars on the front and sides of the chest are copied from the 'strapwork' star motifs found on many traditional carpets. The columns and caps on the corners of the chest were derived from a fabric curtain.
The interior of the chest was also designed to make the most of the storage space provided. Three removable trays were built to allow a 3" deep storage space below the main lid of the chest. An interior storage box was designed to sit below the removable tray at one end of the chest. This storage box was divided into two sections - with removable lids over each. In one of the sections, a removable box of drawers was to be stored.
The material chosen for the construction of the main chest elements was Black Walnut. Many of the interior components of this piece were constructed with highly figured Quilted Maple which is a very rare type of figured Big Leaf Maple from the Pacific Northwest.

Solid wood construction throughout - Black Walnut and Quilted Maple - other woods available.

Frame and Panel construction with pinned mortise and tenon joints

Battens on underside of the lid prevent lid warping or twisting

Three storage trays with handcut dovetail construction and book-matched quilted maple bottoms

The solid brass hinges are mortised into the lid and back rail

Solid brass reproduction hardware used throughout

Many possibly interior compartment and tray configurations

Secret compartments can be built in for a truly unique piece.

The piece is finished with multiple coats of wiping varnish, waxed and rubbed to a satin patina.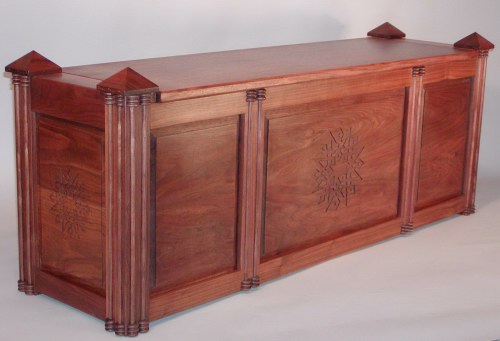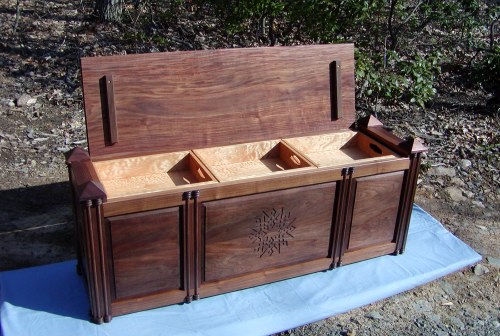 Detail views on carving and molding

Detail views of trays and chest interior

Detail views of box of drawers - handcut dovetails used throughout