Whispering Woodworks

Hoyt Dresser Reproduction

This is a reproduction of a very well known chest of drawers that was built in Massachusetts in 1786 and presented to Mary Hoyt of Deerfield as a wedding present from her father. I fell in love with this piece on my first visit to historic Deerfield in the summer of 2003 and have been waiting for the chance to make a reproduction ever since. Following many of the styles of Connecticut River Valley furniture, this four drawer chest is constructed from solid cherry with an elaborately scalloped top. This chest features many of the traditional elements from the Queen Anne period including the slipper feet on beautiful cabriole legs, scrolled aprons and a scrolled top. The original chest from Deerfield is shown on the left in the photo below - my reproduction is shown on the right - the cherry was finished in its natural color and will continue to darken over time to develop the wonderful reddish brown coloring.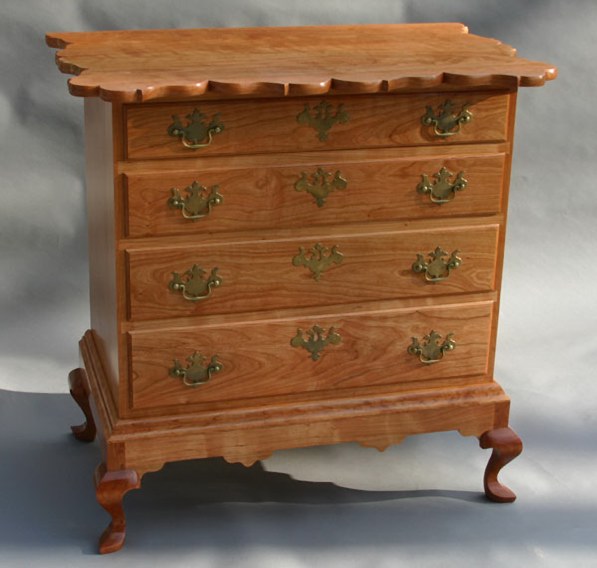 Features:

Primary construction is solid cherry with poplar and maple secondary woods.

The dimensions are approximately 36" wide x 36" high x 22" deep

Wide boards and careful grain matching for full grain patterns.

Mortise and tenon and handcut dovetail joinery throughout the piece.

Chest on a frame design with cabriole legs which terminate in delicate slipper feet.

All drawers feature handcut dovetails at all four corners - with solid wood drawer bottoms

Optional reproduction locks on the drawers

All hardware is reproduction quality solid brass - this is the highest quality reproduction hardware made in England using molds from original 18th century castings.

This dresser was finished with a hand rubbed varnish - then buffed and waxed to a satiny sheen.

Other woods, styles and finishes are available
Detail views of the feet and hardware.
The hardware was ordered directly from England and is made using molds from original 18th century castings.

Detail view of the scalloped top.