Whispering Woodworks

Beach / Thomas Rocking Chair

This custom rocking chair was based on the geometry of an older spindle rocking chair owned by my customer, Mrs. Thomas. She desired a number of changes to the original design including: a deeply dished seat, flowing joinery, a more powerful headrest with a deeper section, and lower arms with a more comfortable profile. I spent over two months working on a prototype with different configurations of arm shapes, headrests and spindle profiles before I arrived at my final design. This rocking chair is constructed from a matched set of wide cherry and borrows elements from Maloof inspired pieces, Chippendale chairs and more traditional spindle rockers. Unlike many of the modern rocking chair designs that I studied, I maintained the used of traditional joinery in my design. This rocker is constructed with traditional mortise and tenon joinery for the headrest, arms, spindles and rockers. The front and rear legs are attached to the seat with a beautiful interlocking chair joint designed by Sam Maloof. This chair design involves hours of hand shaping the flowing joinery to blend the pieces together.
This chair is unbelievably comfortable to sit in and has beautiful grain patterns in the deeply carved seat and headrest. Comfortable for both reading and relaxing, the chair can also be sized to fit a particular individual. The rocker is finished with a natural hand rubbed varnish – waxed and buffed to a satiny sheen.

This rocker was constructed from a wide board, matched set of prime cherry.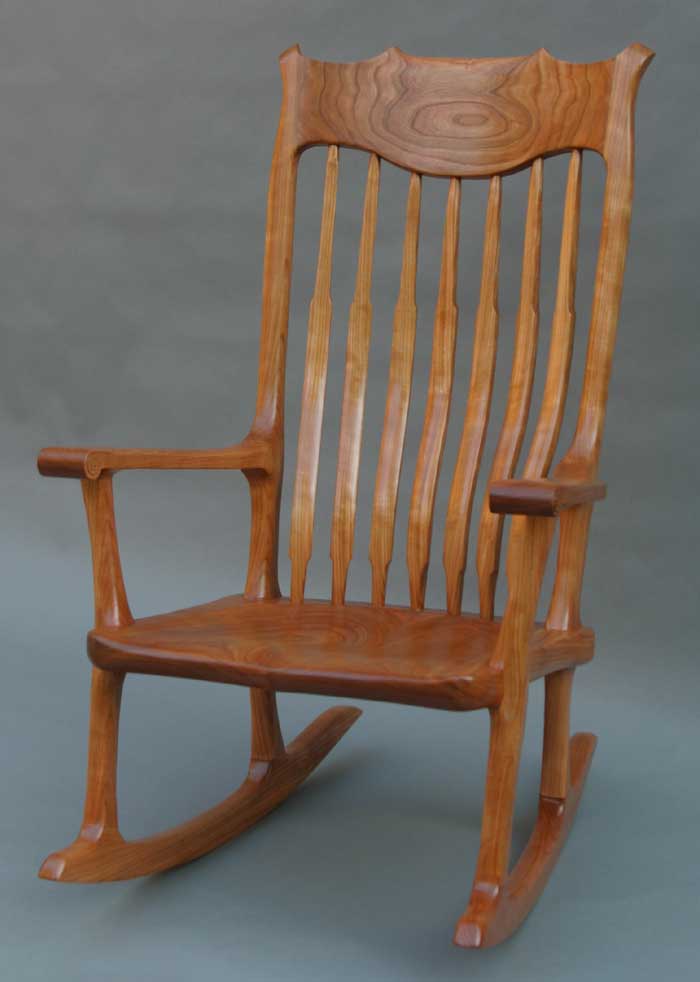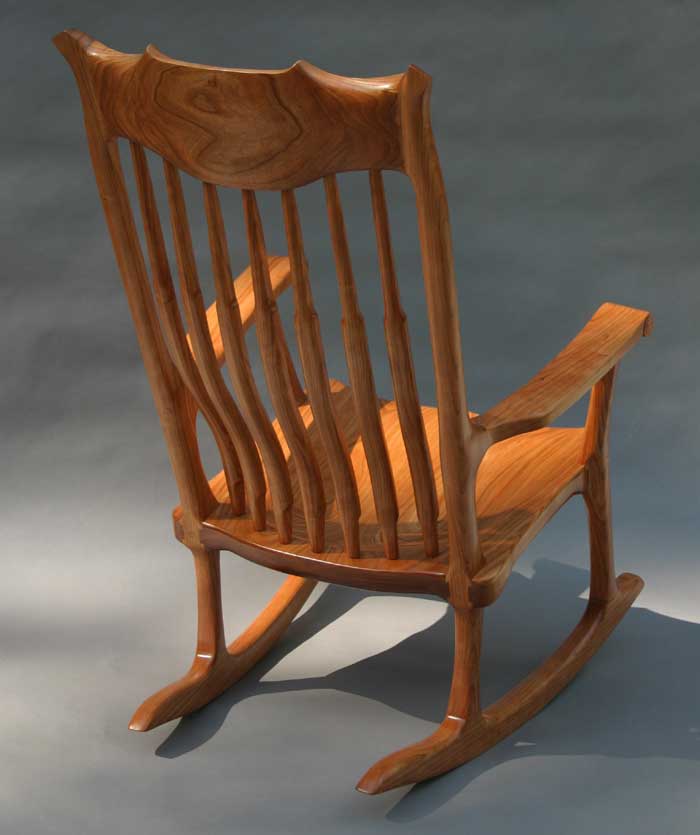 Detail Views of Seat and Front Leg Joinery

Headrest Details (Inspired by a Chippendale Arm Chair)

Front Leg to Seat Joinery showing the flowing lines created with the hand shaped parts.