Whispering Woodworks

Pennsylvania Corner Cabinet

This cherry corner cabinet was designed and built for a customer based on several 18th century examples from Pennsylvania. This corner cabinet features a base section with two drawers and a large cabinet. The upper section is divided with five shelves behind the glass doors. The glass doors, cupboard doors and drawers lock with reproduction locks, and brass reproduction hardware is used throughout. The overall size of the cabinet can be customized to your space requirements and storage needs. This cabinet could easily be built from Maple, Walnut, Mahogany or Cherry.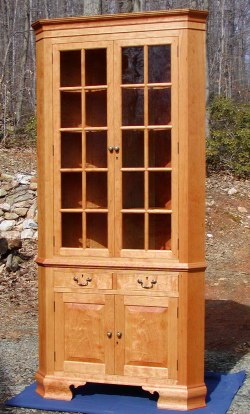 The dimensions of the corner cabinet are approximately 93" high x 42" wide x 20" deep - these dimensions can be customized to meet specific requirements.

Upper and lower cabinets are separated at waist for transportation and moving.

Traditional joinery and construction is used throughout.

Cockbead molding surrounds doors and drawers

The glass doors feature pinned mortise and tenon construction with ten individual panes of handblown reproduction glass.

Upper cabinet shelves have a scrolled front edge and plate grooves along the back edges.

Reproduction quality brass hardware and hinges, lockable doors and drawers.

Drawer fronts and lower cabinet raised panels are made from highly figured curly cherry.

The drawers feature handcut dovetail joints and solid poplar bottoms

The back is constructed from shiplapped cherry boards.

Ogee bracket foot base.

The piece was finished with a hand rubbed wiping varnish, buffed and waxed to a warm satiny glow.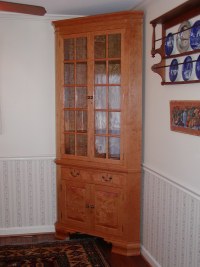 Detail views showing the drawer, door and top construction

Upper cabinet showing the scrolled front on the shelves.