Whispering Woodworks

Carved Mahogany Low Post Bed

This carved mahogany low post bed was build as a reproduction for a customer near Baltimore Maryland. The original bed that I copied was built by his grandfather - a German trained cabinetmaker who immigrated to the United States in the 1920's with his two brothers. The original bed was built as part of a bedroom suite, but it was built in a small single size - the customer wanted to reproduce the bed in a larger size that would accommodate a standard double box spring and mattress. By working directly from the original bed, I was able to reproduce the intricate turnings and carvings of this beautiful bed. The origin of the design appears to come from several late federal period low post beds that were made in the Baltimore area.
The bed features four fully carved posts which include a lower leaf carving section, a mid-section stylized leaf carving and then an upper section foliage wrap which twists around the top half of the post. Each post is terminated with a beautiful stylized pineapple carving. The quilt rail at the foot of the bed includes two of the foliage twist carvings and a stylized ball in the center. The headboard includes a center foliage carving, gooseneck molding with carved rosettes and a turned and carved central finial. All the turnings and carvings on this bed were done by hand.
The box spring is supported by traditional bed hangers ( 6 metal angle brackets which are attached to the inside surface of the side rail.) In addition a platform box spring support system (not shown) is available as an option for queen sized beds and required for king size beds to support the box springs. The bed is assembled with traditional bed bolts and I was able to find a source for the same bed bolt covers that were used on the original bed.
The bed size, style, wood selection, and coloring can be customized to suit the customer's requirements.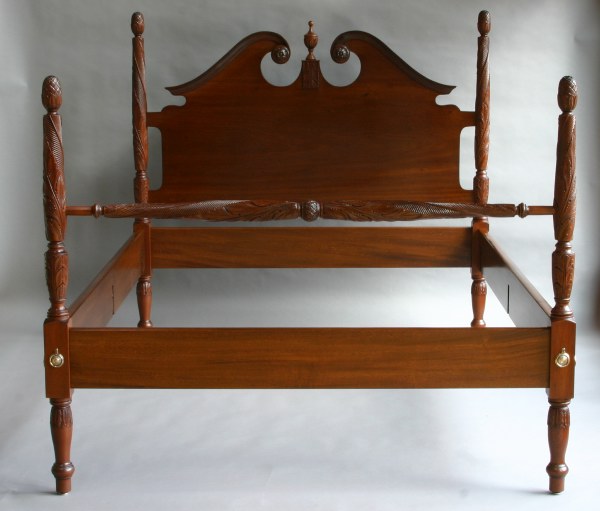 Features:

Solid mahogany construction.

Hand turned posts and quilt rail

Hand carved posts, quilt rail, headboard and finial.

Gooseneck molding on headboard is hand carved.

The height of the bed, mattress size and headboard designs can all be specified by the customer.

Rails joined to the posts with traditional bed bolts - bolt covers are available in a wide variety of styles and finishes.

Bed bolt wrench included to allow periodic tightening of the joints as the humidity changes.

All joinery is mortise and tenon.

This bed was stained an antique mahogany color to match the coloring of the original, finished with shellac - then buffed and waxed to a satiny sheen
Detail views of the turned posts, bed bolt covers, and feet.

Detail View of the Headboard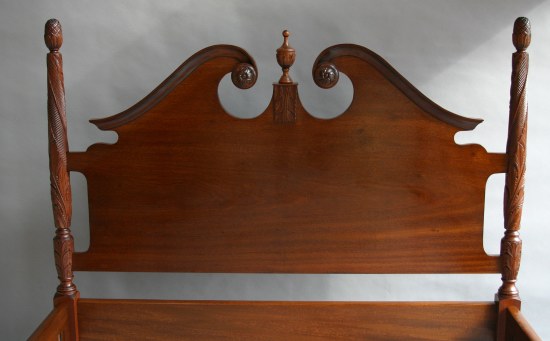 Detail view of the central finial, foliage carving and carved rosettes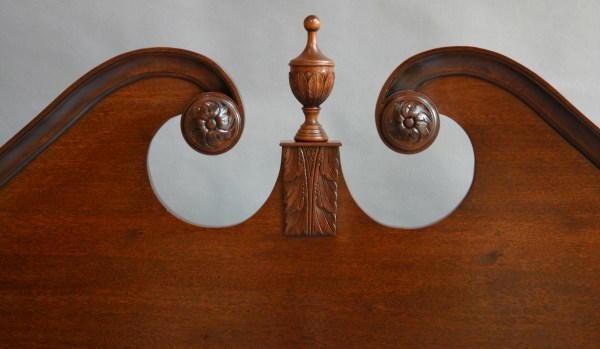 Detail view of Pineapple carving at top of posts.