Whispering Woodworks

Fine Custom Furniture & Reproductions

Newspaper / Magazine Articles

The following press release was dated 12/15/05
My Newport Tall Case Clock was selected for Inclusion in the Telfair Exhibition.
TELFAIR/SAPFM FURNITURE EXHIBITION
The studio or art furniture movement is alive and well in this country as evidenced by the numerous museum exhibitions, articles, and books written over the last few years. A small but extremely vibrant niche of contemporary furniture makers has been reproducing American period furniture for years but they have never received proper recognition. "Contemporary Classics: Selections from the Society of American Period Furniture Makers" is the first ever exhibition of current works of American period furniture makers to be held at a major American museum. The exhibition will take place at the Telfair Academy of Arts and Sciences, a part of the Telfair Museum of Art, in Savannah, Georgia from April 12-May 28, 2006.
The furniture in the exhibition is made by members of the Society of American Period Furniture Makers and is representative of pre-twentieth century historical examples. The exhibition demonstrates to the public-at-large that reproducing American period furniture is a serious and creative form of self-expression.
The Telfair Museum of Art has chosen the following SAPFM members for inclusion in the upcoming exhibition Contemporary Classic: Selections from the Society of American Period Furniture Makers at the Telfair Museum of Art in Savannah Georgia: Mark Arnold, David Beach, Dennis Bork, Patrick Edwards, Frank Guarnieri, Greg Guenther, John Gush, Bret Headley, Jeff Headley, Mack Headley, Eugene Landon, Steven Lash, Stephen Latta, Philip Lowe, Terry Lutz, John McAlister, Dan Reahard, Jeffrey Saylor, Alfred Sharp, Brooke Smith, Robert Stevenson, Robert Whitley, Ed Willer, Joshua Williams
The following article appeared in the March 28, 2006 Edition of the Loudoun Times Mirror Newspaper
Leesburg artist exhibits in Georgia

David Beach, of Whispering Woodworks in Leesburg, will be exhibiting in the Telfair Museum of Art in Savannah, Ga., a juried exhibit sponsored by the Society of American Period Furniture Makers. SAPFM and Telfair chose 23 members out of hundreds to participate in this exhibition. Beach will deliver a Newport tall case clock to the museum to be included in the exhibition. According to Beach, this is the first exhibit of contemporary-made period furniture ever featured in a major museum. The exhibition will be held at the Telfair Museum of Arts Academy building (121 Barnard St.) April 12 through May 28. The Telfair Academy Guild is holding its annual program, "The Artful Table," in conjunction with the Contemporary Classic show. A preview party will be April 20, with a lecture the following day. Beach can be contacted at 703-737-2126.
The following picture appeared in the April 2006 issue of Fine Woodworking Magazine in the Current Work section.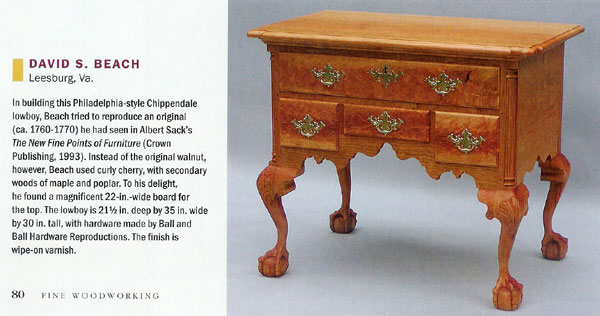 The following picture appeared in the October 2004 issue of Fine Woodworking Magazine in the Current Work section.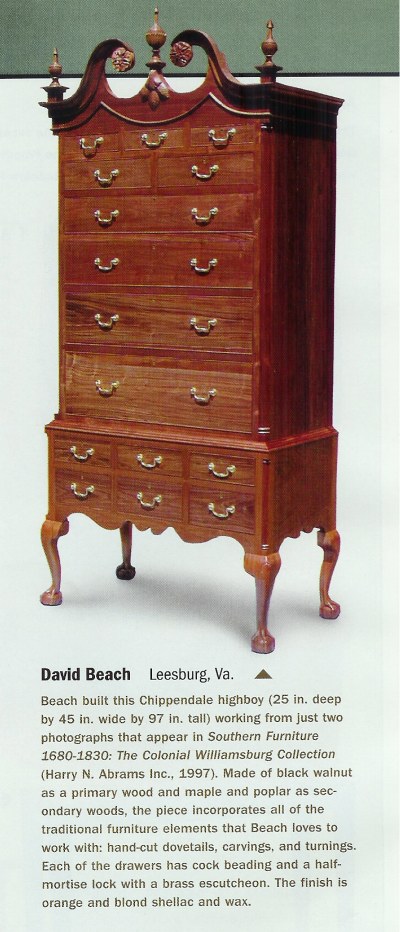 The following article appeared in the Loudoun Friday Times on Dec 24, 2004

David Beach masters the fine art of furniture making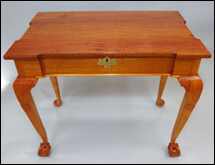 By Eileen Carlton

12/23/2004

Friday Times Staff Photo/Abigail Pheiffer

Sawdust on the floor. A craftman's tool to measure, scrape, dig, carve or chisel. For David Beach of Lucketts, working with wood came naturally as a small child of six.

David S. Beach, cabinetmaker and owner of Whispering Woodworks LLC, hand-planes all visible surfaces for each piece of furniture he makes.

Details:

David Beach

Whispering Woods LLC

13961 Steed Hill Lane

Leesburg, Va 20167

703-737-2126

dave@whisperingwoodworks.com

www.whisperingwoodworks.com

Philosophy

"I am responsible for hand-making and hand-finishing each piece of furniture on a one-at-a-time basis. This individual attention allows me to provide my customers with outstanding handcrafted furniture. My joinery and construction techniques represent the very best work of yesterday's master cabinetmakers. I do not take shortcuts in the production of any piece -- if it isn't my best work, it doesn't leave my shop."

"I did projects with my dad -- stuff around the house, bird houses, little stuff for pets, dog houses, that kind of stuff," Beach recalls.

Today he is recreating furniture styles that have become revered as classic works of art.

Beach took an eight-year detour of sorts while he worked as a mechanical engineer. After completing a master's degree in mechanical engineering at Bucknell University in Lewisburg, Pa., he got married and went to work for an engineering contractor.

"My interest in period furniture started about six years ago," Beach says. "At that time, I was still doing mechanical engineering and became more and more involved in reproduction furniture. When we decided to have children, I worked out an arrangement with my wife where we didn't have to put them in day care."

His wife, Allison, manages a software company in Reston. She is expecting their second child. Daughter Megan is 2 years old.

Beach makes it clear he has never regretted that decision.

"I think I've always had an interest in building things, and this was really a place where I could apply hands-on work with them, do some problem-solving and come up with a way of building things," says Beach. "I do a lot of drawings in CAD [computer-aided design software]. I work up all my own plans so I still get to use some of that mechanical engineering background."

The six years have been full ones for Beach, who specializes in 18th- and 19th-century reproduction furniture as well as custom furniture in various styles -- William and Mary, Queen Anne, Chippendale and Shaker.

"In six years, the total number of pieces I've done is well over 100 big pieces, and there's an awful lot of little stuff that isn't on the Web site," Beach says.

Beach begins by determining which types of wood will be used, scoping out the lumber yards and handpicking each piece of wood for each piece of furniture. These trips have taken him to places like western Maryland and Pennsylvania, where, his Web site explains, he finds the premium hardwood he uses for many of his pieces.

All of the furniture turnings are done by hand, but Beach does use a number of modern machines to rough-dimension the stock. Then the stock is scraped or planed by hand to remove any machine tooling marks.

Beach prides himself on using only solid wood construction unless the customer objects.

Most of the furniture is cherry, walnut, maple and mahogany, but other woods are also available.

What makes his work something for the buyer to be proud of?

Well, much of the furniture found in department stores is glued together from many small pieces of wood. Beach makes large pieces, such as legs and feet, from a single thick piece of wood.

The backboards, drawer bottoms and dust boards are also solid wood. If any of these sections are going to be visible in the finished product, Beach will add a decorative bead to the edges.

The next step is chopping and trimming mortises to cutting dovetails and tenons.

The final step is the application and execution of a hand finish. The furniture will be planed, scraped or sanded to achieve an even, uniform surface. If coloring is desired, Beach will use natural dyes that highlight the wood grain and increase depth and clarity.

All of the oils, shellacs and varnish are also natural, and each coat is applied by hand. There are usually five to eight thin layers. When the finish meets with Beach's approval, he hand-rubs the wood to achieve the level of gloss that the customer wants.

The last step prior to delivery is to label, sign and date the piece in an inconspicuous location.

"It takes me four to six weeks for most of the pieces. I've spent as many as several months on one piece," Beach says.

Beach says the period he most enjoys recreating is Chippendale.

"I would have to lean toward Chippendale, especially the pieces that are heavily carved. I've done a highboy and a Philadelphia Chippendale lowboy and they both took quite a while," he says. "My favorite thing of all is carving. I really enjoy that, any piece that involves carving."

Beach's carvings include ball-and-claw feet, Newport shells, and lettering or initials.

"And for some reason I also like doing dining room tables, I guess because I know it will be used every day and you know they will appreciate what you did every day," Beach says.

Chairs are also among Beach's favorite things, in particular Queen Anne formal dining room chairs.

"I just finished two sets of them this fall, and they were really enjoyable to do," Beach says, adding that he does upholstering as well.

Beach also has a whimsical side – one of his favorite additions to some of his furniture is a secret compartment. This custom, Beach's Web site explains, began with cabinetmakers who were called upon to incorporate secret compartments into furniture to provide a secure place for the storage of valuables and documents. Even in those early days, there was a crime rate, and burglary and petty theft were very common in colonial America.

Beach also took a practical cue from one of the most creative of the founding fathers.

"I do build a lot of Thomas Jefferson lap desks and that's kind of interesting. This was a little lap desk that Jefferson supposedly designed and used, supposedly when he was drafting the Declaration of Independence. It's a mahogany lap desk that is about the size of a large laptop," Beach says.

"Basically, what I've done is taken the dimensions of the original and revised them slightly to hold standard office paper and pens and stuff you used nowadays. I actually sold 30 of them and they're often given in award presentations.

"Really interesting people have found [the Jefferson lap desk] on the Web site," Beach adds. "There is this one guy in charge of finances in the city of Denver and his hobby is recreating old documents. There are two authors on the West Coast using the Jefferson lap desk to go outside and write their manuscripts. Just different people with interesting ties to history."

Over the years, Beach has acquired an extensive library including "Southern Furniture 1680-1830: The Colonial Williamsburg Collection" by Ronald Hurst. Beach is more than willing to let a potential buyer peruse his books before making a choice.

Beach has also learned from other masters, in classes taught by Jim Rubino (fine joinery), Lou Schnelling (wood finishing), Ben Hobbs (Queen Anne and Chippendale chairs) and Allan Breed (Newport-style carving).

For basic and advanced cabinetmaking, he only had to travel as far as Hugh Grubb, of Hillsboro.

In this class, Grubb explained to his students that all the handwork, the carving and hand-cutting the joints is done in a certain way since proper joinery would not require any screws; that drawers are usually made with dovetails; and the legs and frames are put together with mortise and tenon

Grubb said the classes are usually 12 weeks long with 2 1/2-hour sessions.

He remembers Beach the student.

"He was excellent. He was extremely motivated and eager to try anything and everything regardless of difficulty and generally succeeded at everything he tried," Grubb recalls.

Like Beach, Grubb's work with wood and his art come from somewhere deep inside the psyche.

"I don't know whether you're born with it or it's something you just happen to like," he says. "Part of the challenge is the material itself. It's not a consistent material. It's not like steel, for instance. Each individual piece is different and therefore each piece has to be handled differently.

"Sometimes the direction will change within a few inches of each board. That is the challenge. It is sort of a collaboration with a piece of wood. You have to do what it wants to do, so it will do what you want it to do. It's a two-way street," Grubb says.

Jim Fall, of Falls Church, has commissioned three pieces of Beach's furniture.

"Each is unique and each developed after lengthy, exacting design consultations," says Fall. "David is a rare master and in my judgment destined to fame in his art. He demands amazing feats from himself.

"We are now in the process of designing two additional pieces, one made from Oregon myrtle, a somewhat unique kind of wood from the Northwest," he adds. "I chose this wood after visiting Jack London's home in Somona, Calif., and seeing a chair he made from this wood.

"Another piece he's made has rare quilted maple incorporated in it. ... Quilted maple is used to make fine musical instruments," Fall says. "A hall chest he made incorporated features [symbols] from major religions of the world that David and I chose after lengthy discussions. These features are so subtle that no one who has seen this piece has recognized the inclusion of the symbols. Each piece also has a secret compartment and no one, even the most observant engineers who inspect the pieces, can find the compartments.

"David is very knowledgeable about wood and wood structure and knows supply sources all over the country," Falls says. "He took me to the distant hills of northern Pennsylvania. ... He spent a couple hours looking at planks that appeared to me all the same, but David could see into what a finished plank would look like after he crafted it into art, practical art."

Today Beach is a juried member of the Association of Virginia Artisans and a member of the Society of American Period Furniture Makers.

Beach's goal is to earn the privilege of taking his work to the Waterford Fair next year.

"I haven't been accepted yet, but that's one of my goals for the year," Beach says

©Times Community Newspapers 2004

The following article appeared in the Washington Times on Friday April 4, 2003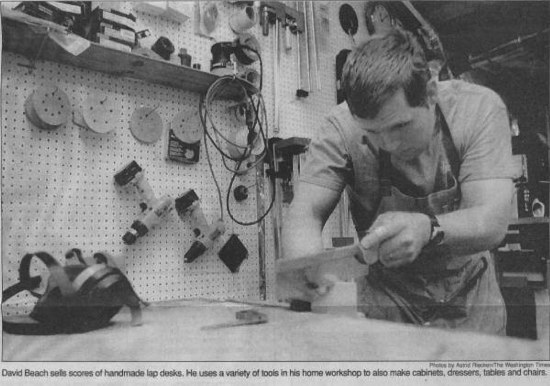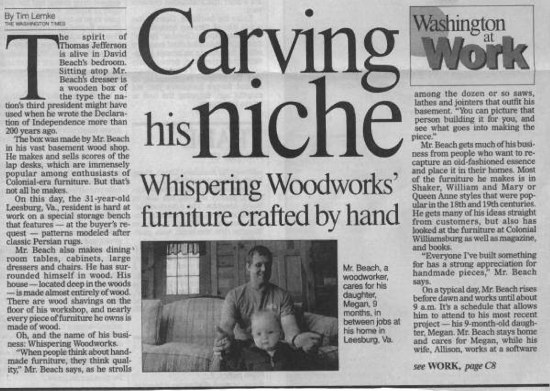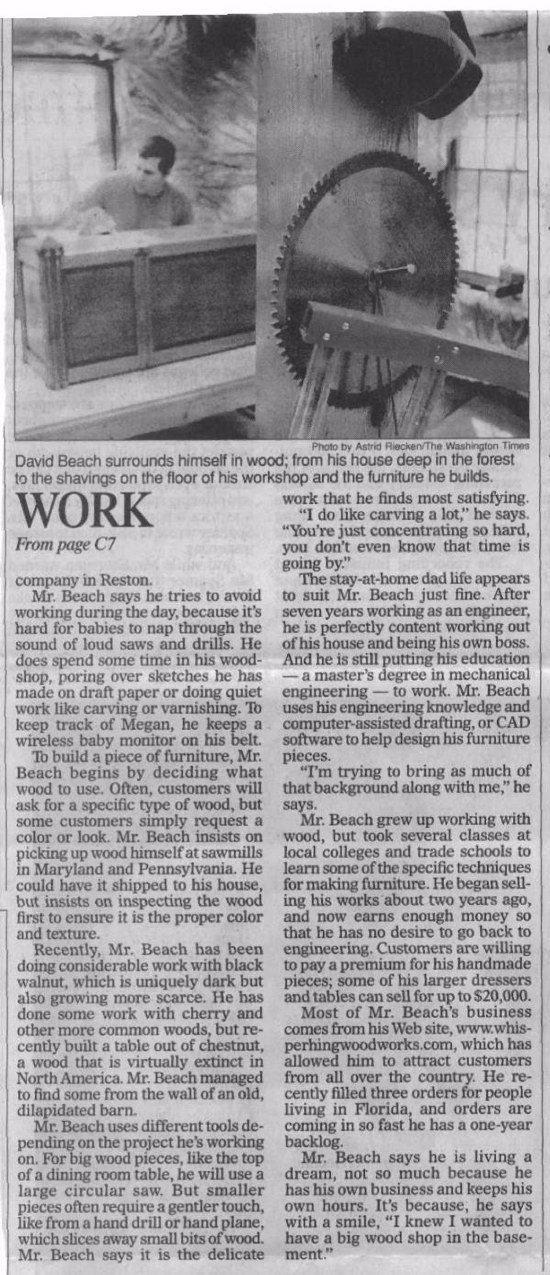 The following article appeared in the March 2003 edition of Bucknell World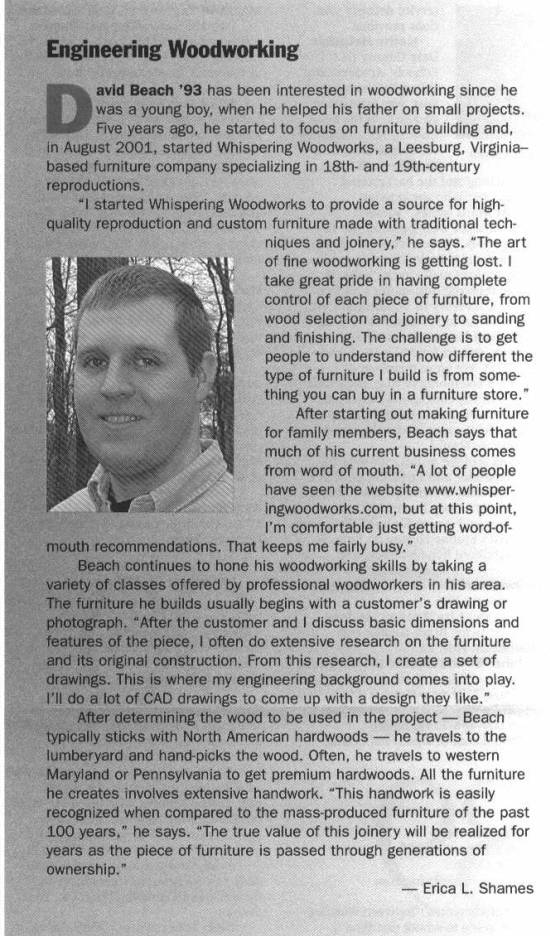 The following article appeared in the Loudoun Times Mirror on March 27, 2002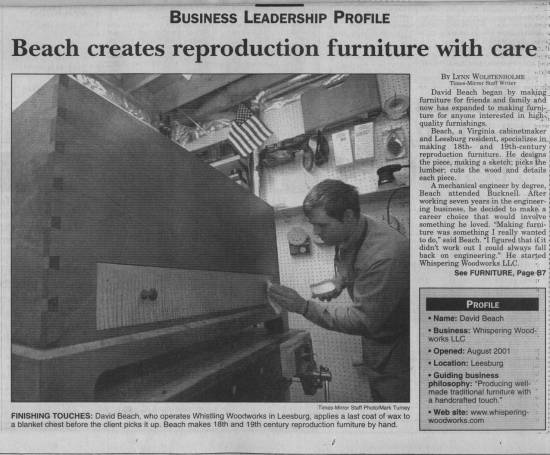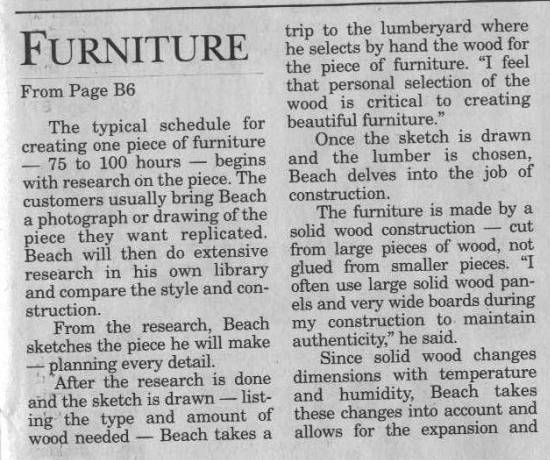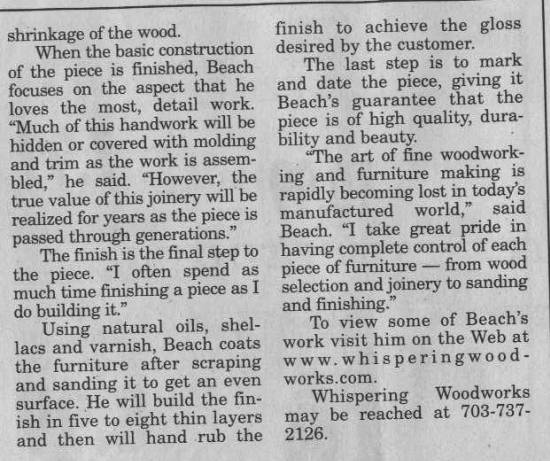 Below are some pictures from the 2005 Waterford Homes and Craft Exhibit - a juried show of traditional craftsmen in Waterford Virginia