Whispering Woodworks

Roxbury Tall Clock

This Tall Case Clock (or Grandfather clock) was built as a reproduction of a clock built by Aaron Willard in Roxbury or Boston (1805). The original clock upon which my reproduction was based, was featured in a Christie's auction in September 2008. The brothers, Aaron and Simon Willard, were well known American clock makers - working in Boston on Roxbury street from 1785 till the 1830's. Their clocks are highly regarded for the impressive detail and ornamentation, as well as the beautifully crafted clock works.
The original clock shown in the photo was made from mahogany with a rosewood banding. This reproduction was made from a matched set of highly figured curly maple with inlays of Gabon ebony. The hardware from the clock was obtained from Londonderry Brasses and the molds were cast from original period hardware. The overall size of the clock is 94" high, 20.75" wide x 12" deep. The size, style, wood selection, and coloring can be customized to suit the customer's requirements.
The clock works can be obtained from several sources - this clock features a reproduction works by David Lindow with a hand painted dial by Kathi Edwards. (Prices for works range from $500 to over $2500.) I will work with the customers to select the appropriate works and make arrangements for the dial painting and designs. The clock works shown include a rocking ship, a date wheel and a second hand.


Features:

Primary construction is a matched set of highly figured curly maple with poplar for the back panel.

The dimensions are approximately 94" high x 20.75" wide x 12" deep

Hood features arched molding, fretwork, veneered bonnet top, front and rear columns

Fluted columns with brass stop fluting on hood (front) and waist

Reproduction ball finials

Clock base front, waist door and hood door feature a inlayed stringing of Gabon ebony

Mortise and tenon and handcut dovetail joinery throughout the piece.

Hand blown reproduction glass for dial door and side hood windows.

All hardware is reproduction quality solid brass.

This clock was finished with a hand rubbed shellac finish - then buffed and waxed to a satiny sheen.

Other woods, styles and finishes are available
Photo showing detail of hood and clock face showing rocking ship dial.
Detail view of clock hood showing the side glass windows and brass stop fluting on columns.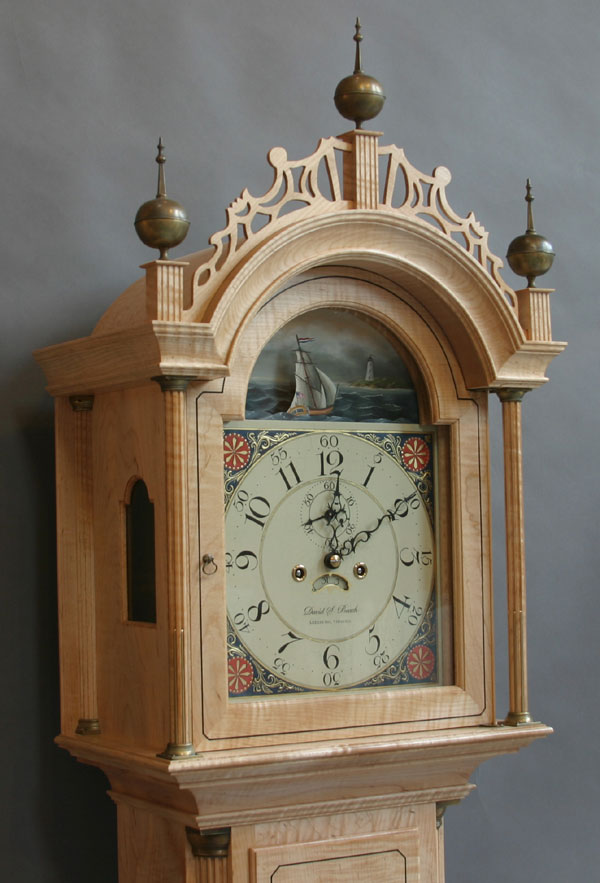 Detail photo showing the highly figured front panel with ebony inlay.